By: Adam Johnson

I always hate reading "Best of" lists because, inherently, someone or something gets left out. I don't think it is possible to have all-encompassing knowledge on a given subject—especially food—as I have not experienced every possible sandwich in Saint Paul.
So first off, my disclaimer, I have not tasted every sandwich in Saint Paul and there's a good chance there are one or two out there that should be on this list. However, having lived in the Capital City for most of my life and having worked at Visit Saint Paul for over nine years, I have established a pretty solid body of work when it comes to dining in Saint Paul establishments.
So without further ado, I give you my "Five Best Sandwiches in Saint Paul" (in no particular order):
Philly Cheese Steak | Goody's Hot City Pizza & Subs | $8.49*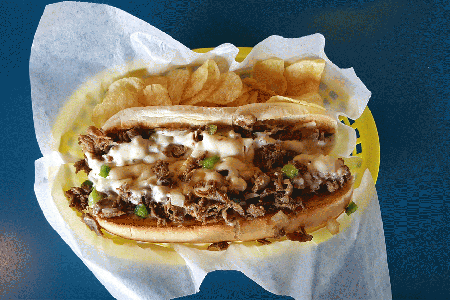 This has to be the best Philly outside of, well, Philadelphia. I can't remember what drew me into this little shop for the first time on the corner of Randolph and West 7th, but I'm glad it happened. I ordered the Philly on day one and have not wavered since (though I have made one adjustment to my order). Your straight up Philly comes on a fresh Italian hoagie topped with melted Pepper Jack cheese, mushrooms, onion and green peppers (you can hold any of those if you want). The sandwich is always hot, fresh and mouthwatering—the magic cheese sauce is indescribably good. The only thing I do special is ask them to "press it" a little to get a titch of the grease out. I guess it's my way of convincing myself I'm eating healthy. The sandwich comes with chips, which serve as a great landing spot for any gooey cheese or meat that falls off the sandwich. Enjoy this masterpiece from Goody's Hot City, just don't throw away the pretty yellow basket it comes in.
French Dip | Skinner's | $8.75*
Skinner's is a great little dive bar on Randolph and Milton, and this sandwich rises above the rest on a menu filled with great sandwiches, competent burgers and AMAZING pizza. The Skinner's French Dip includes thinly sliced and piping hot roast beef on an absurdly fresh hoagie bun, smothered in Swiss cheese and covered in onions. The sandwich comes cut in half with toothpicks holding each bulging half together. The magical little cup of au jus makes dipping this sandwich a delight. All of the sandwiches come with chips and a pickle spear, but upgrades are available. I always upgrade to onion rings because, well, I really like their onion rings. Eat in or take out, this sandwich has never disappointed me.
Hot Italian | Patrick McGovern's | $11.00*
The Hot Italian falls under McGovern's Pub Sandwiches section of the menu. I only know this because I looked on their website while writing this blog. When I'm in the place, I never even look at the menu—at least not since I first ordered this sandwich. The Hot Italian includes a spicy sausage patty (perfectly spicy for my tastes) with sauteed onions and green peppers, topped with melted mozzarella and zesty marinara all on a grilled (grilled is important) hoagie bun. It is absolutely amazing. All of their pub sandwiches come with your choice of french fries, potato salad, creamy cole slaw, low-fat cottage cheese, small salad, chips or fresh fruit (when available). I've never strayed from the coleslaw as it is a refreshing balance to the spicy sandwich. One bite of this sandwich and it will become your lunchtime staple at McGovern's.
BLT(O) | Aroma's Cafe | Whole $6.35 Half $5.15*
Aroma's is a little-known downtown cafe located in The Lowry Building. I usually prefer a bit more meat to my sandwich, as evidenced by the first three on this list, but this BLT from Aroma's is amazing—and I don't even like tomatoes. Also, I technically get the BLTO as I love onions and think they make this sandwich even better. The bread, wheat or Italian, is made daily and always fresh. The tomatoes are thinly sliced and the bacon is always crisp and hot. The lettuce (I'm not sure how to brag on lettuce) has always been crisp too. All of this is tied together with their magic mayo sauce for a mouth-watering BLTO sandwich that is light, but filling. Grab one next time you're on the run in downtown Saint Paul.
Brisket Sammy | Revival Saint Paul | $12.00*
When I first went to check out Revival, I decided on the Brisket Sammy from an overall exciting menu. Two healthy slices of perfectly cooked brisket resting beneath a tangy mustard slaw, pork rinds and b+b's (that's slang for bread + butter pickles) all between two perfectly crispy slices of Texas Toast. In full disclosure, I haven't even eaten this entire sandwich yet as I was with co-workers and we decided to share three entrees—I almost reneged on the pact after my first bite. The sandwich comes with one of their amazing side dishes. I went with the mac & cheese, but the candied yams are delicious too. This baby is seriously a game-changer—unlike any other sandwich I have eaten.
*price subject to change on all sandwiches without notice.
Have a sandwich that you just love in Saint Paul? Let us know about it on Twitter, Facebook or Instagram with #MYSAINTPAUL.

Editor's Note: Adam Johnson is Vice President of Marketing at Visit Saint Paul, tourism rube and lover of delicious sandwiches.