With safety in mind, your Thanksgiving plans may be looking a bit different. These Saint Paul restaurants are ready to help you create a festive and stress-free holiday dinner. Whether your meal is for one or more, we've got mouth-watering options for you!

This list is not all-inclusive and will be updated as more information is available. Some restaurants may sell-out, so we recommend planning ahead and check to confirm availability.
(Photo of Thanksgiving At Home Boil Kits courtesy of Grand Catch.)
Brasa
Brasa has take-home packages available in three sizes: Small (for two), Medium (for four) or Large (for eight). Includes lightly smoked and roasted free-range turkey, hardwood smoked mustard and cider glazed ham, honey glazed cornbread, mashed potatoes, poultry gravy, sage and onion dressing, candied yams, coleslaw and fresh cranberry sauce. Order here
The Buttered Tin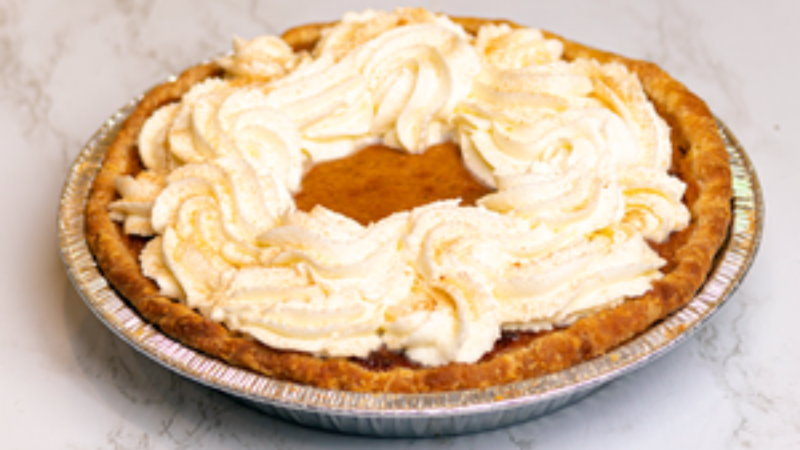 Enjoy a Thanksgiving Hawaiian Luau Feast at home, including smokey pork shoulder, braised cabbage topped w/green onion, sushi-inspired white rice with furikake, roasted vegetables, and a side of mac salad. The Buttered Tin will take care of the baking, too, with pies, cinnamon rolls and dinner rolls. Available freshly baked, or freshly frozen for you to prepare at home. Order Luau Feast here. Order baked goods here by Nov. 18.
Colossal Cafe
Take and bake dinner from with classics sure to satisfy Thanksgiving purists. Items are offered a la carte — or choose turkey dinner for one ($13.95). Roasted turkey breast or thigh, herb dressing, mashed potatoes, giblet gravy, cranberries, bread or rolls, pies and cake.Pick up from Grand or Como location. Order here
El Burrito Mercado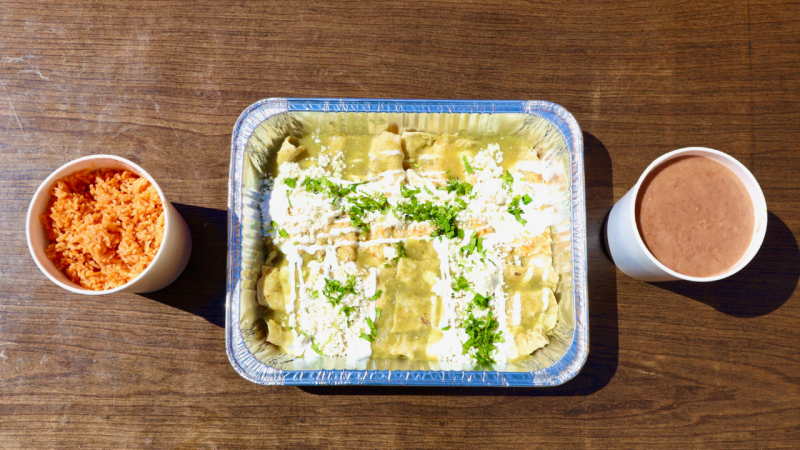 Options from El Burrito for your holiday feast include Tamales, Appetizer and Enchilada Family Packages, Pernil seasoned pork leg, and sides: Mexican Rice, Cilantro Rice, Refried Beans and Black Beans. Order here by Nov. 23.
Estelle
Serving a hot, freshly prepared, family meal for 4. Meal includes butternut squash soup, caesar salad, freshly baked Parker House garlic rolls, Casarecce bolognese pasta, and Piedmontese chocolate hazelnut cake. Order here by Nov. 22.
Golden Thyme on Selby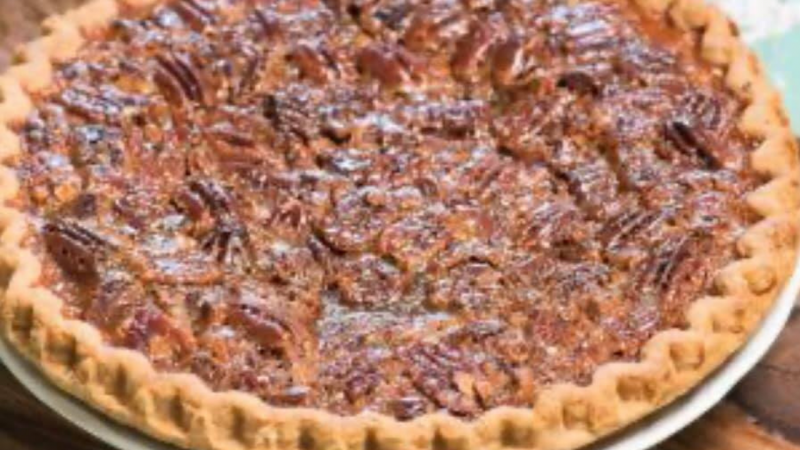 Golden Thyme is ready to jazz up your dessert with their Premium Sweet Potato Pie and Royal Pecan Sweet Potato Pie. Pre-orders are taken from 8am-1pm Tuesday through Saturday (orders are not taken via voicemail. Order by Nov. 23: 651-207-5945
Did somebody say 'seafood'? Thanksgiving At-Home Boil Kits from Grand Catch include everything you need to host a seafood boil for six to eight people. Kit includes Snow Crab, Head on Shrimp, Peeled Shrimp, Jumbo Shrimp, Red potatoes, Sweet Corn, sauce, boil spices and cooking instructions. A la carte options include mac and cheese, grits au gratin, Brussels sprouts and pumpkin bar. Order here by Nov. 22.
Herbie's on the Park
To-go dinner available for two, four or eight people. Wine pairing available. Herbie's on the Park meal includes roasted turkey, sage stuffing, roasted garlic mashed potatoes, green beans amandine, amaretto glazed carrots and more plus pumpkin or caramel apple pie. Order here by Nov. 20.
Holman's Table
Save yourself the prep work with Holman's Table's classically-elevated take-and-bake meal. Includes fresh herb-roasted turkey, roasted butternut squash salad, sage stuffing, green bean almondine, skin-on red mashed potatoes, classic giblet gravy, ginger orange cranberry sauce, Franklin Street pull-apart rolls and pumpkin pie. Order here.
Keys Cafe
Take the stress out of your Thanksgiving meal with Keys Cafe's turkey dinner for six. Meal includes turkey, mashed potatoes and gravy, dressing, sweet potatoes, corn, cranberries, Keys homemade white bread and a pumpkin pie. Option to add on extra pies and sides. Order here.

Keys Cafe on Robert Street is open to dine-in from 8am-2pm on Thanksgiving Day.
Kincaid's
Your cooking is taken care of with take-home family meals (serves four to six people) or a whole turkey (serves 12-14) from Kincaid's. Meal includes turkey, mashed potatoes, house-made gravy, lemon-scented green beans and carrots, chicken apple and sage sausage stuffing, cranberry and orange compote and pumpkin pie. Order here by Nov. 20 — whole turkey orders must be placed by Nov.18.
The Lexington

The Lexington is offering both dine-in and take-out options for your Thanksgiving dinner. Take-out meal for six includes herb-roasted Bell & Evans turkey breast and cider-braised turkey leg, roasted Brussels sprout hash, whipped Yukon gold potatoes, dark rum sweet potato casserole with homemade marshmallow, whole wheat brown butter and sage stuffing, dinner rolls, Elizabeth's cranberry chutney, scratch gravy and house-made pumpkin pie with salted caramel whipped cream. Order here.
Three-course dine-in option is $49.95/person — Reservations.
Moscow on the Hill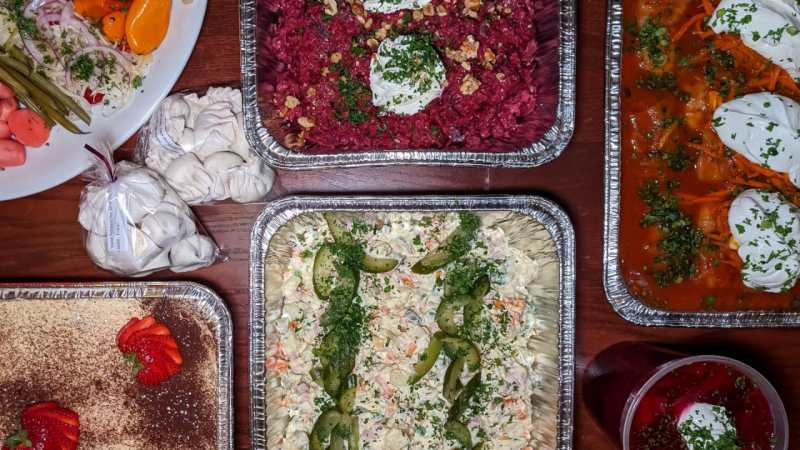 Take the stress out of Thanksgiving and make it memorable with Moscow on the Hill. Thanksgiving dinner menu includes Grandma's Galubsty "Cabbage Rolls" Tray, Siberian Pelmini Dumplings, Vareniki Dumplings, Borscht, House Pickle Platter, Ukrainian Beet Salad, Olivier and Tiramisu Tray. Order here by Nov. 21.

Red Cow

Red Cow's dinner feeds four to six people and comes fully prepared for you to heat and serve at home. Includes turkey breast, mashed potatoes, gravy, stuffing, mac and cheese, green bean casserole, cranberries, charcuterie board, pumpkin pie and assorted artisan breads. Plus, you can add on additional sides, a bottle of wine or even a cocktail kit. Pick up at Red Cow-Uptown. Order here.
Revival
Effortless holiday dinner with take-and-bake options from Revival. Choose a la carte sides that serve about 10 people or get the Revival Feast with one of every side, two whole birds and one of each pie. Includes fried chicken, Revival's macaroni and cheese, mashed potatoes with brown gravy, candied yams with a marshmallow topping, Cornbread stuffing with sausage and sage, biscuits, banana cream or butterscotch pie with graham crusts and mascarpone whip. Order here by Nov. 22.
Saint Dinette
Saint Dinette is looking out for you with this takeaway-dinner sized with left-overs in mind (but if you don't end up with any extras, we won't judge!) Includes roast turkey, mashed potatoes and gravy, "Hamburger Helper" stuffing, green bean casserole, parker house rolls, jellied cranberries, pumpkin gooey butter cake.
Order here.
Do your Thanksgiving plans include a Saint Paul restaurant? Share your photos with us on Facebook, Instagram and Twitter using the hashtag #MYSAINTPAUL.