14 Places to Eat at Along the Green Line
Hop on the METRO Green Line to dine around the world on a restaurant crawl.
The Green Line light transit route runs through University Avenue, a historic thoroughfare between Minneapolis and Saint Paul that is packed with fantastic food options. Buy an affordable ticket and plan a full-on crawl through one of the most eclectic and delicious restaurant districts in the city.
Here are the restaurants to plan a trip around, ordered by Green Line stop.
Raymond Avenue Stop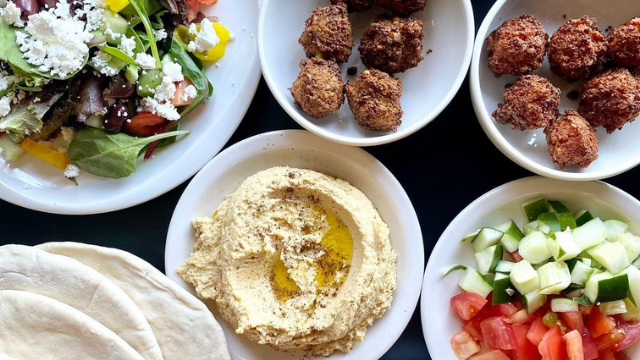 @foxyfalafel
Foxy Falafel
Just inside the warm embrace of Saint Paul, this Midway restaurant is beloved by falafel fans and those looking for gluten-free or vegetarian eating. Chef/owner Erica Strait's crispy chickpea balls are other-worldly - packed with flavor in three varieties (get the Stoplight for a taste of each red, yellow, and green falafel.) Other menu items are made with farmers' market stand-fresh vegetables and responsibly raised meats.
The Naughty Greek
Get a taste of Greece from The Big Feta himself, owner Angelo Giovanis. The Naughty Greek brings authentic, fast-casual dishes to the menu with warm pita sandwiches, hot and cold mezze platters, zingy house-made tzatziki, sticky-sweet desserts and the best pork gyro you can get this side of Athens. Each dish is made to order, so if you're vegetarian, vegan, gluten-free or dairy-free — don't worry — they'll fill your belly and warm your soul.
Snelling Avenue Stop
On's Kitchen
This restaurant's flavor and herb-packed Thai dishes are made with all the care of a homemade kitchen. This is not the place to stop at regular old Pad Thai -- dig deeper into the menu for nuance and comfort, like the pork sour sausage, or the soothing and richly flavored khao mun gai with garlic and chicken.
Turf Club
One of the great pleasures of living in the Twin Cities is our fantastic local music scene. After taking a massive hit during the pandemic, venues are bouncing back and the Turf Club is one of the best venues for tunes and a drink in the city.
Hamline Avenue Stop
Master Noodle
Fans of spicy noodles can be found swooning over a fiery bowl of broth inside the dining room of Master Noodle near the intersection of University Avenue and Hamline. Master Noodle has the distinction of being one of the few spots in the city serving hand-cut noodles. Plus, the Sichuan heat is real.
Black Hart
The Black Hart is a neighborhood, queer, and soccer bar in the Midway neighborhood of Saint Paul and a must-stop before or after Minnesota United Games at Allianz Field. Deep-fried snacking items fill the menu along with some great cocktails and local beer. Everyone is welcome for their drag shows, burlesque, BINGO, and karaoke.
Victoria Street Stop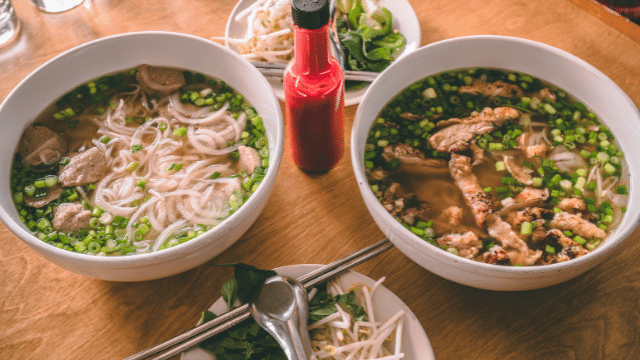 Ngon Vietnamese Bistro
This polished Vietnamese bistro is a fantastic spot to aim for if you're looking for a patio on University Avenue. Even if the weather isn't cooperating, this restaurant is a lovely setting for dinner and drinks. Tuck into the beautiful bowls of pho with fresh ingredients and a stock made with locally raised ingredients. Don't miss out on the crispy rabbit dumpling appetizer or the fabulous craft cocktail list.
Trung Nam French Bakery
Famous for its croissants and bread (just begging to be stuffed with banh mi ingredients), this humble little bakery is a Saint Paul institution. Starting off the day with a potent iced cafe, made rich and creamy from condensed milk, and a buttery plain croissant is a little slice of perfection.
iPho
iPho has become part of a burgeoning little local chain of restaurants serving hearty Vietnamese dishes. As the name would imply, the pho is a draw, but so is the bun - noodle salads, and the egg noodle filled soup, mi. This is also a popular stop for bubble tea.
Western Avenue Stop
Cheng Heng
To know is to love this small, family-owned restaurant with its eminently cravable Cambodian dishes. The food is incredibly affordable, so order with ambition. The banh xiung is a mix of stir-fried beef over vermicelli noodles served with a mess of fresh herbs and a massive eggroll on the side.
Trieu Chau
The massive banh mi served at Trieu Chau are the best kind of grab-and-go eating with crusty bread all tender on the inside, packed with flavorful meat and snappy vegetables. Or, tuck into a remarkably affordable bowl of pho.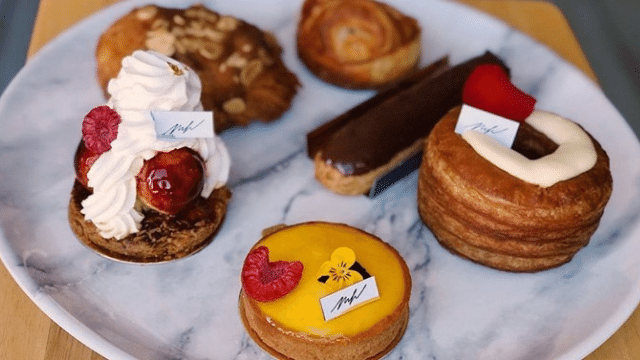 @chuckhannema
Marc Heu Patisserie
Some of the most elegant pastries and French treats can be found inside this tidy little bakery. Special order showstopping cakes for special occasions or whole boxes of buttered layered pastries.
Langano
A cozy Ethiopian eatery that's a fantastic stop for rich stews and tangy, plush injera. Open for lunch and dinner, the menu boasts a selection of wrapped sandwiches like gyro and a twist on the burrito.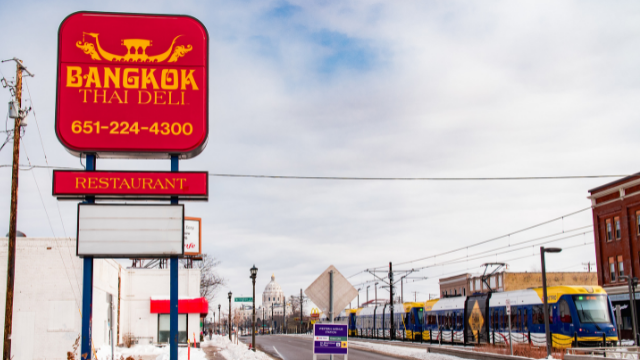 Bangkok Thai Deli
Find fantastic Thai food inside this transformed Burger King. Hot summer nights beg for the mango salad, a cold and spicy mix of crunchy mango and funky good sauce. For something on the creamier side, the red curry is a lux mix of sauce with choice of meat and a few tender-crunchy vegetables.
This list just scratches the surface of delicious dining along the Green Line. We'd love to see where you're eating! Share your favorites on Facebook, Instagram and Twitter using the hashtag #MYSAINTPAUL.

Prove your dining worth with these notorious Saint Paul food challenges.
Learn More
Instagrammable and epically devourable dishes you can't miss.
Learn More
We're a big fan of the classics, but we are also excited to try the new delicious offerings by new and existing vendors at the Minnesota State Fair.
Learn More