Make supporting local restaurants part of your holiday celebrations this year. Whether your meal is for one or more, we've got mouth-watering options for you.
This list is not all-inclusive and will be updated as more information is available. Some restaurants may sell out, so we recommend planning ahead and check to confirm availability.
(Main photo of Apertivo di Natale, Due Focacceria.)
Augustine's Bar & Bakery
The Holiday Meal Kit from Augustine's serves approximately 4-6 people and is ready to reheat and eat. Includes glazed ham, apple walnut salad, green beans, glazed carrots, cheesy potatoes and six dinner rolls. Bakery items include chocolate roulade, cranberry orange cheesecake and sugar spice cake. Order by phone 651-447-3729 or email.
Black Dog Cafe
Lowertown's Black Dog Cafe has roasted beef tenderloin or roasted pork tenderloin dinners for two with additional sides available to add on. Each option includes salad, roasted carrots and potatoes and flourless chocolate cake or cranberry tart. Additional sides include cranberry sauce, chicken liver pate, Brussels sprouts, brie with cranberry, marinated olives and salmon spread. Order here by Dec. 18.
The Buttered Tin
The Buttered Tin has got you covered, offering a brunch kit (complete with mimosas!) and a holiday dinner sized for 2-6 people. Holiday brunch kit includes a bottle of prosecco with lavender lemon and fresh orange juice mixers, plus a four-pack of freshly frozen cinnamon rolls and cream cheese frosting. Holiday dinner includes Fisher Farms sliced ham, pineapple chutney, garlic parmesan green beans, sweet potato mash and spiced blueberry cobbler. Add on cookies or cupcakes from the bakery. Order here by 1 p.m. on Dec. 21.
Colossal Cafe
Colossal Cafe is offering an Individual Christmas Dinner as well as family-style dinner items, brunch items and some fun desserts to help mix it up this year! Items are offered a la carte: orange-glazed ham, roasted carrots, mashed potatoes and gravy, bread, pot pies, lasagna, french toast bake, sausage egg bake, cheesy hashbrowns, cinnamon rolls, peanut blossom cookies, cheesecake bars, oreo truffles, sugar cookie kits and peanut butter pie. Pick up from Grand or Como location. Order here by Dec. 20.
Cossetta Alimentari
Christmas meal kits from Cossetta's include heat and serve Italian kits for two and a holiday prime rib dinner with options for 2-10 people. Italian kits include a choice of salad, macaroni and secondi, along with a freshly baked loaf of Baguette and two chocolate dipped cannolis. Holiday prime rib dinner includes herb-crusted prime rib, spinach cranberry salad with maple dressing, green beans with oven-roasted red peppers, asiago roasted potatoes, house-made french baguette bread and chocolate mousse torte. Meals can be picked up within 48 hours of ordering. Order here by Dec. 21.
Aperitivo, in Italy, is a time when family gathers to enjoy above-average snacks well into the night, so Due is bringing you Apertivo di Natale, a preorder Christmas happy hour made for an Italian. The kit includes herbed ham focaccia rounds and romesco spread, piccolo Roman meatball tray, holiday truffle arancini, Carne & Formaggio pizza box, and a cannoli kit. Items are also available ala carte and you can add a spritz cocktail or mulled wine kit. Order here.
El Burrito Mercado
El Burrito Mercado is offering a full slate of holiday catering options. Order The Tamale Sampler, which includes two dozen mini tamales (six pork, six chicken, six sweet corn and six jalapeno) or La Clasica, which includes a dozen enchiladas, a side of Mexican rice and a side of refried beans. Or try pernil fit to feed 8-10 people or 15-20. Order here or email catering@elburritomercado.com with questions.
Estelle
For Christmas Dinner, Estelle is offering an amazing, decadent prime rib dinner for four and includes two bottles of wine. Includes four generous portions of prime rib with Estelle steak sauce and horseradish cream, duck fat roasted fingerling potatoes with rosemary and parmesan sauce, sweet and spicy harissa roasted carrots, white anchovy caesar salad, white sesame Hawaiian rolls with whipped butter, bacon-wrapped dates with Calabrian chili marinara, black truffle macaroni and cheese, foie gras tiramisu and two bottles of wine. Order here by 5 p.m. on Dec. 22.
The Gnome
Take home a holiday meal kit serving four or eight from The Gnome, along with some Hope Champagne. The holiday meal kit includes pancetta deviled eggs, baked brie with locally baked sourdough bread, goat cheese and walnut salad with a blue-cheese vinaigrette, buttermilk roasted chicken with sides of herb-roasted root vegetables, house baby potatoes with raclette cheese, housemade buttermilk biscuits with honey butter and for dessert: housemade berry cobbler. Order here.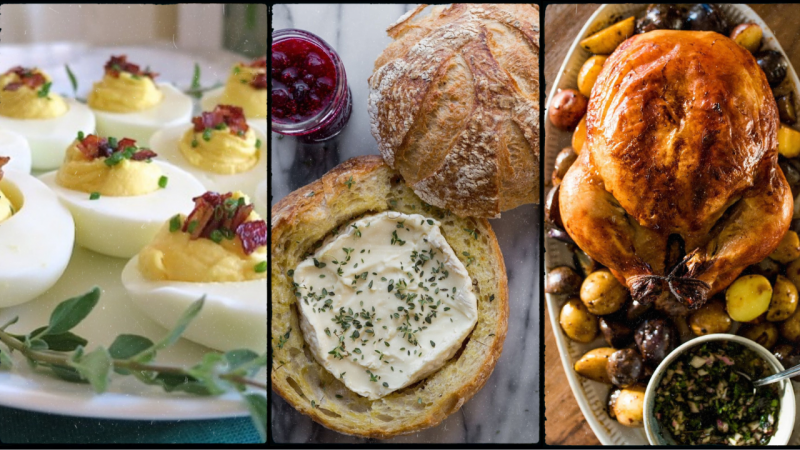 Herbie's on the Park
Three dinner options, curated nosh boards and wine pairings are available for pick-up from Herbie's on the Park. Choose one entree from braised beef brisket, stuffed pork loin or rosemary roast chicken. Accompanied by creamy turkey wild rice soup, shrimp cocktail, roasted red potatoes, cauliflower au gratin and for dessert, either red velvet or double chocolate cake. Order here by Dec. 18.
Holman's Table
"I'll Be Home for Christmas" hits a little different this year and Holman's Table is ready to bring some light to your holiday with Christmas dinner. Choose the prime rib or glazed ham dinner, which each include chilled shrimp and crab claws with cocktail sauce, winter salad with champagne vinaigrette, crispy Brussels sprouts with honey blue cheese dressing, herb roasted red potatoes, ciabatta rolls and holiday bread pudding with vanilla glaze. Order here.
The Lexington
Let The Lexington do the cooking this holiday season with their Christmas Eve Dinner for four. Includes orchard salad (gf, v), glazed, pit-smoked ham (gf), Yukon gold potato mash (gf, v), cheesy cauliflower (gf, v), creamed kale (gf, v), cake doughnut pudding and milk buns with butter. Order here by Dec. 20.
Moscow on the Hill
Moscow on the Hill's Christmas dinner is now open for preorder. Dinner options include borscht, house pickle platter, Ukrainian beet salad, olivier, grandma's galubtsy, Siberian pelmini dumplings, vareniki dumplings and a tiramisu tray. Order here.
Mucci's Italian
Take home Tim Niver's Italian Christmas for 2-4 people. Includes meat stromboli, veggie supreme stromboli, a small frozen lasagna, eight meatballs in sauce and a chopped salad. Meat and veggie supreme stromboli's, gift cards, frozen lasagna in two sizes, frozen meatballs, pizzas and fresh pasta sauce are also available a la carte. Order here.
Pillbox Tavern
Chef Graham of Pillbox Tavern is whipping up heat-and-serve Christmas dinners for 4-6 people that includes short rib roast braised in red wine, potatoes au gratin, green beans almondine, brown sugar glazed baby carrots and caramel apple streusel pie. Order here.
Red Cow
Red Cow has got two delicious options for serving 4-6 people. Tenderloin steak dinner includes herb-crusted beef tenderloin, honey almond Brussels sprouts, roasted carrots with chili honey crème fraiche, roasted baby baked potatoes, superfood salad, artisan bread, charcuterie board and chocolate cake with butter cream cheese frosting. Fried chicken dinner includes 12 pieces of classic or Nashville hot fried chicken, roasted baby baked potatoes, coleslaw, cheddar and chive biscuits with honey butter, mac 'n cheese and banana cream pie. Order here by Dec 20. Pick up at Red Cow Uptown.
Revival
Revival is offering a true holiday feast along with the option to add a leftover ham sandwich kit, a cocktail kit or order items a la carte. Holiday meal includes choice of two take and bake fried chickens or ham with brown sugar mustard glaze, bourbon carrots, mashed potatoes with gravy, mac and cheese, biscuits, squash salad with molasses vinaigrette, 10 biscuits, banana cream pie and sweet potato pie. Order here.
Saint Dinette
Celebrate the holidays from the comfort of your own home with a stocking full of specially curated snacks from Saint Dinette — both sweet and savory. Each stocking includes chicken liver mousse, smoked whitefish rillette, chef's selection of cheeses, bread and crackers, roasted nuts, olives and cornichons, orange marmalade, flapjack mix with chomeur and more. Add on a winter-spiced old fashioned kit, mulled wine, cranberry spritz kit or house egg nog. Order here. Also, check out Saint Dinette New Year's Eve Party Platter that appropriately serves two people.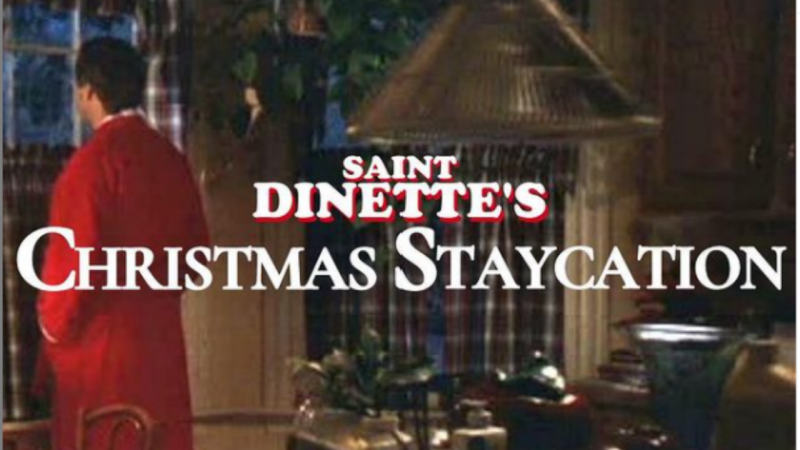 Urban Growler Brewing
In addition to their family and catering platter menu, Urban Growler has added a holiday dinner that serves 2-4 people. Includes spatchcocked and roasted chicken served with pan sauce, Grand Marnier cranberries, Yukon gold potato and celery root gratin with Gruyere, oven-roasted carrots and rutabaga, and served with baguette. Limited amount available. Order here by Dec. 20.
Waldmann Brewery
Waldmann's Christmas Dinner for four is also available in a vegetarian option. Includes brisket with horseradish and caramelized onion or maple-mustard roasted ham or chestnut sage and apple gnocchi (vegetarian), horseradish-and-herbed mashed potatoes, root vegetable gratin, cider-braised cabbage or creamed kale, winter greens salad and for dessert: Waldmann stollen or Christmas cookies. Order here by Dec. 19.
Do your holiday plans include a Saint Paul restaurant? Share your photos with us on Facebook, Instagram and Twitter using the hashtag #MYSAINTPAUL.