Have you ever had the urge to strap on hockey skates and plummet down 12 stories of icy obstacles at 45 miles an hour?
No? Us either, but that doesn't mean we don't love to watch.
On Jan. 19-20, a crop of the world's finest adrenaline junkies will descend upon Saint Paul for the seventh consecutive year to compete in the heart-pumping insanity that is ice cross downhill. The Capital City will kick-off the season with the very first event of the Red Bull Crashed Ice Series, and we want you to crash the party.
Here's what you need to know before bundling up and heading to Saint Paul:
First things first—what's this whole thing about tickets?
New this year is the option to purchase tickets for premium viewing areas. As in past years, tickets will not be required for general admission.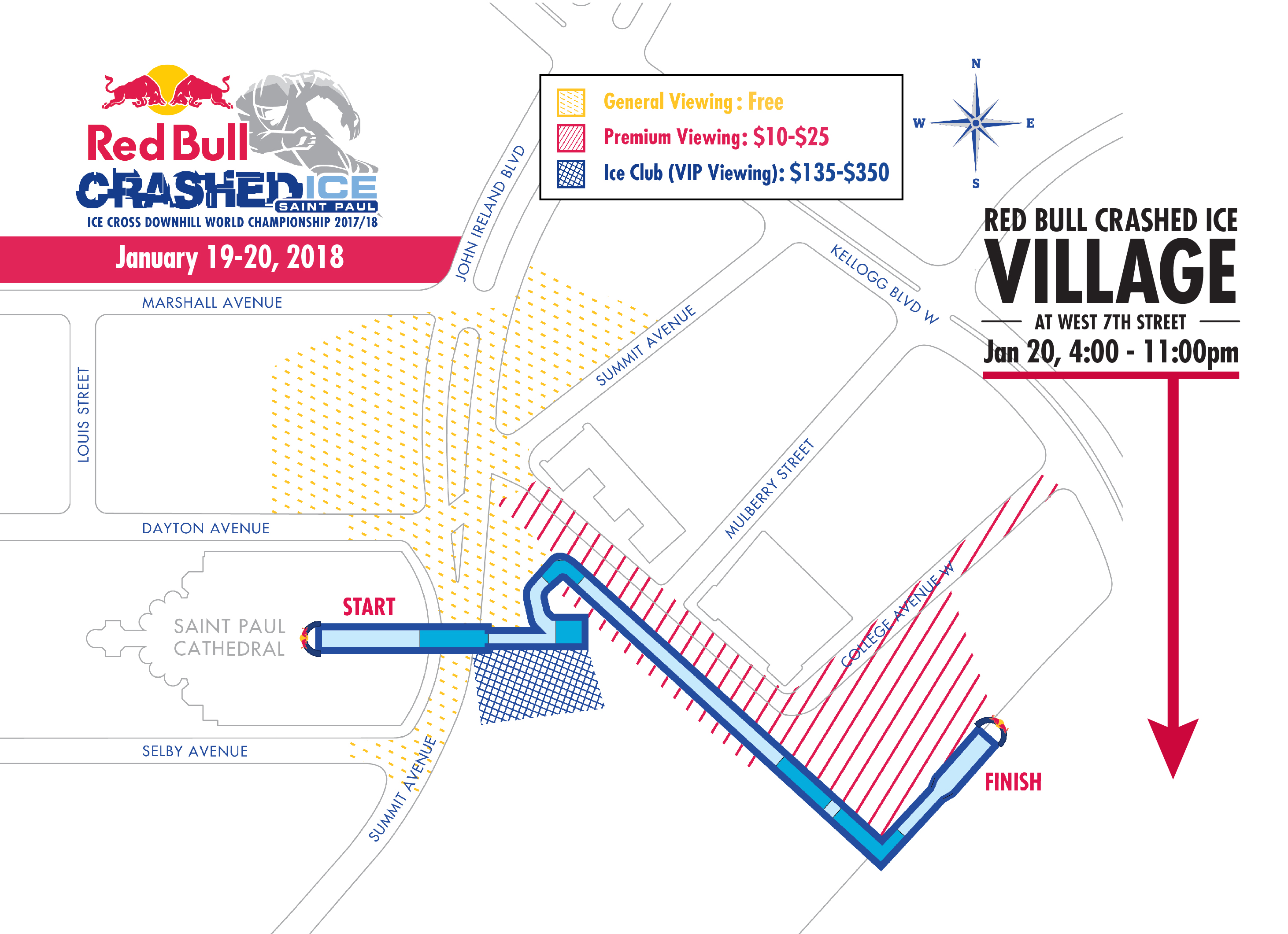 Now, onto the fun stuff...
Who
140,000 fans, 100 skaters. Men and women from more than 10 countries compete in two respective divisions, many of them former hockey players or downhill skiers. Minnesota native and Visit Saint Paul sponsored athlete, Cameron Naasz, will begin his quest for a third consecutive title. Naasz was the first American to claim the top spot on the World Championship podium in front of the home crowd here in 2016.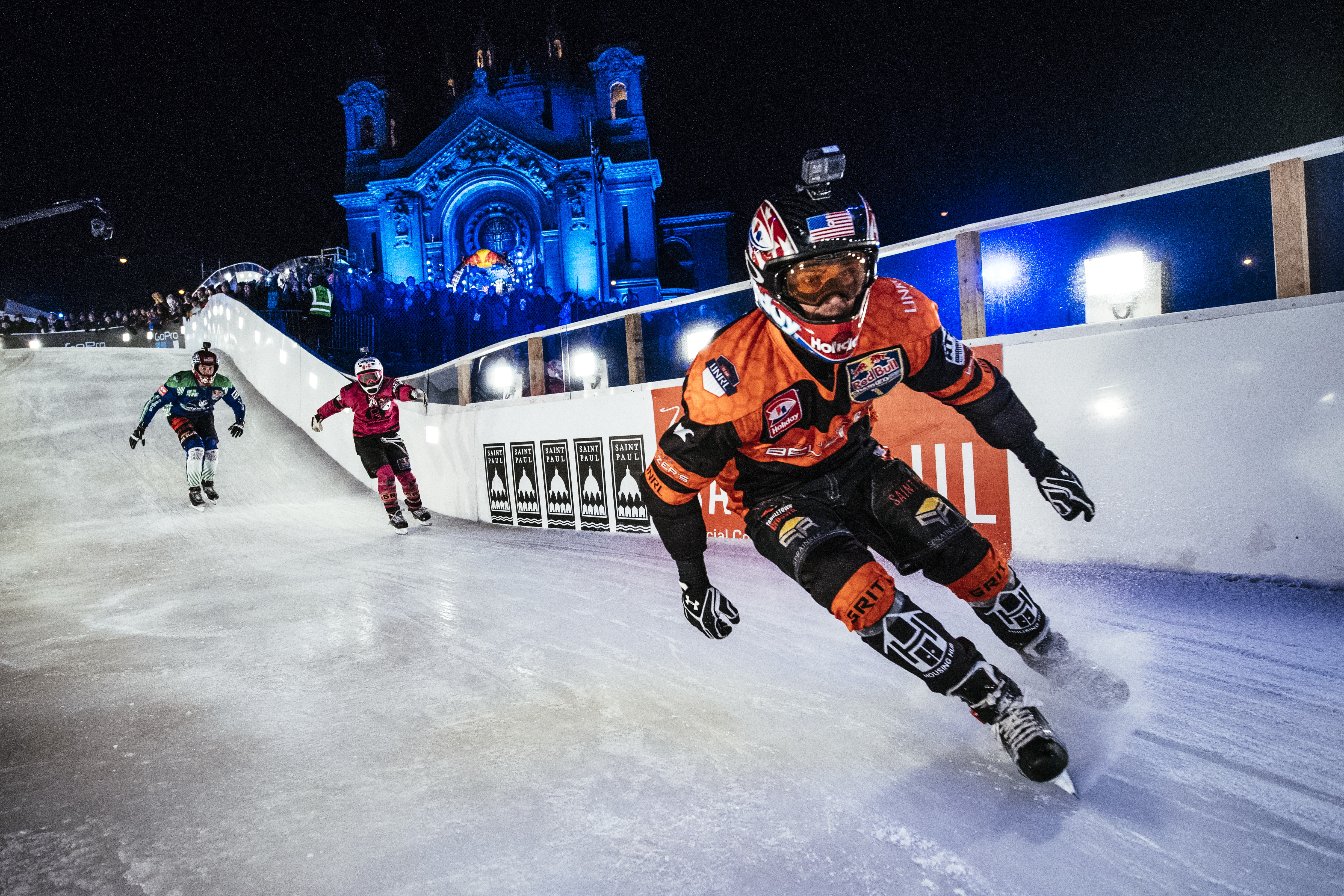 Photo: Ryan Taylor/Red Bull Content Pool
What
The fastest sport on earth, that's what. Ice cross downhill blends downhill skiing, hockey, and motocross. Each heat consists of four skaters, dressed in hockey gear, and awards points based on finishing position. The top two finishers in each heat advance until the pool is narrowed to four final skaters who compete in the championship race. Ranking is determined by combining a skater's Red Bull Crashed Ice points with points from their best three Rider's Cup performances. The skater with the most points at the end of the season earns the title of World Champion. Fun fact, Saint Paul has been the only United States stop in the Crashed Ice Championships over the last seven years.
When
Jan. 19-20.
Friday, Jan. 19
6 p.m.: Doors Open
7:30 p.m.: Freestyle Competition
8 p.m.: Challengers Race
8:30 p.m.: Juniors
Saturday, Jan. 20
6 p.m.: Doors Open
7:30 p.m.: Freestyle Showcase
8:15 p.m.: Round of 32 begins
Where
Downtown Saint Paul! The 1,600-foot obstacle course starts atop the steps of the gorgeous Cathedral of Saint Paul and winds through major obstacles to the street-level finish line. Jumbo screens will be spaced throughout the area to allow fans to view the action from a variety of angles. Local restaurants like Burger Moe's and Cossetta's will keep the party rolling on Saturday from 4 p.m. to 1 a.m. in the official Crashed Ice Village, with all of West 7th street blocked off for music, food, drinks, and more. We also recommend a pre-race stop at The Lexington, Ox Cart Ale House and Great Waters to check out their ice bars. If cold weather isn't your thing, catch the live feed from the warmth of Alary's or Tavern on the Ave. Stick around for all that Saint Paul has to offer—you won't regret it.
Why
It's awesome, and it's free (though you can pay for premium passes to get an even better view of the action).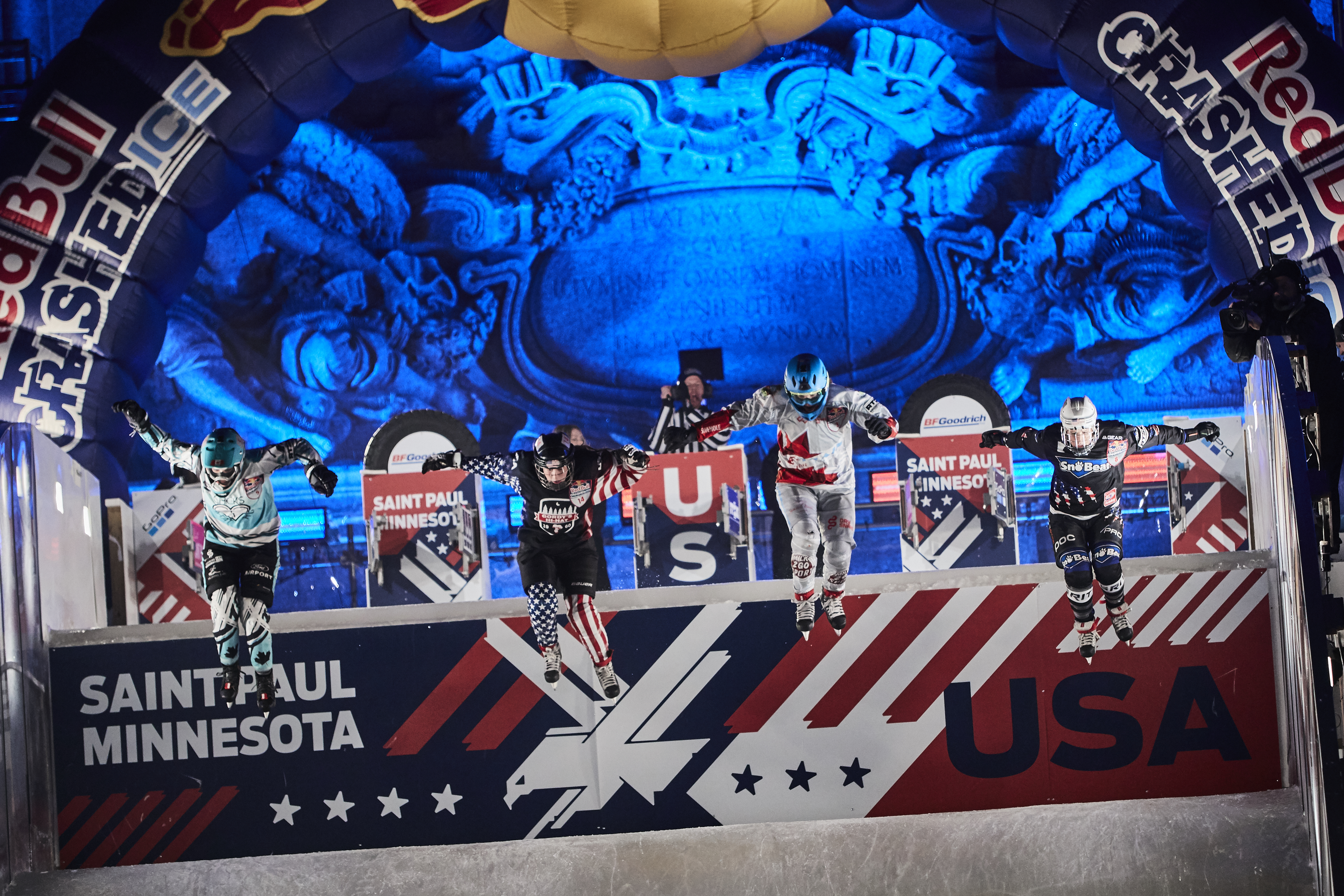 Photo: Andreas Langreiter/Red Bull Content Pool
How
Again, no pre-purchased tickets are required for general admission. A variety of ticket packages are available for access to premium viewing, the Ice Club (elevated viewing and open bar) and the official Red Bull Crashed Ice After Party at the Palace Theatre.
Don't stress over parking (there isn't any on-site), snag a free ride from Metro Transit! You can also hop on a shuttle from a variety of Twin Cities bars—click here for a full list of participating bars and restaurants.
Need a place to crash? Puns aside, we've got you covered: visitsaintpaul.com/where-to-stay
For up-to-date information leading up to the event, visit the official Visit Saint Paul Red Bull Crashed Ice microsite at visitsaintpaul.com/crashedice.
We can't wait to see how much fun you're having. Share your photos with us on Facebook, Instagram and Twitter using the hashtags #CRASHSAINTPAUL and #MYSAINTPAUL!