3 New Dishes to Try at the Minnesota State Fair
Bypass funnel cakes and corndogs for these "More Minnesota" bites from 3 of the state's best and brightest food brands.
Minnesota is home to some of the most innovative and legit food brands and products in the country. The State Fair is a delicious one-stop-shop for trying a bunch of them.
Three can't miss spots, and the new dishes they're offering for 2021.
Baba's Hummus Bowls from Baba's Jerusalem Style Hummus
Since 2018, Baba's Hummus, brought to you by the Palestinian American Ansari family, has been sweeping store shelves (as friendly competition with the also Palestinian American Holy Land brand-- long Minnesota's quintessential hummus, founded in 1986.)
But this creamy, dreamy, Middle Eastern staple has a pedigree decades old: the Ansaris are also owners of the 42-year-old Middle Eastern Cruise Cafe now located in Bloomington. Only three years after immigrating to Minnesota from Jerusalem, Jamal Ansari opened the restaurant, and now in its second location has been bringing classic Middle Eastern flavor to Minnesota ever since.
Rana Ansari, who runs Baba's ("father" in Arabic) with her brother Khalid Ansari, says that longtime customers of the restaurant have been asking them for years to bring their products to store shelves, and now that they have, their hummus, babaganouj, and pita breads have become a breakout hit.
"But my brother is a true Minnesota boy, and The State Fair has always been the ultimate dream."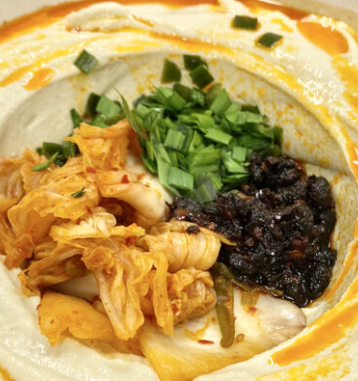 Photo Credit: Minnesota State Fair
The first year at the State Fair, Baba's will showcase a lineup of hummus bowls, from more traditional flavors to playful ones like the "Chile Baba," finished with garlic chile oil, kimchi, and scallion. Or, the "Dilly Dilly Bowl,"-- dill pickle hummus topped with cheese curds. "What could be more Minneosota than that?" Rana asks.
All bowls will be garnished with warm pita, fried pita, or falafel.
"Most importantly, we want to reclaim the narrative of what it means to be Arab American. Our culture, and our food has been misrepresented. Big box brands have nothing to do with real hummus."
Get the real deal at this year's Minnesota State Fair.

Kerala Fried Chicken Kati Roll Hot Indian Foods

When Amol Dixit retired from General Mills, he knew he wanted to take what he had learned in corporate America and apply it to the flavors of his native India. His introductory "Indurritos" offered Minnesotans some inroads into tika, aloo gobi, and channa, via their food truck and stall in the Midtown Global Market.
The company has leaned into more traditional Indian classics, now serving Kati Rolls, street food rolls with similar fillings wrapped in paratha bread. The build-your-own format is still easy to grab-and-go, personalize, and love.

Photo Credit: Minnesota State Fair
At the fair, get the new Kerala Fried Chicken Kati Roll-- chef Janine Holig says that in tropical, coastal Kerala, the food gets lighter and fresher-- ideal for August Minnesota days.
The flaky paratha bread swaddles fried chicken, and gets finished with mango, mint, and cilantro chutney. "Clean, and very fresh," says Holig.
Other Dishes from the Hot Indian booth include Bhel Puri-- a popular, and super-cravable Indian street snack with puffed rice tossed with chutneys and veggies; and Samosas, available in both Butter Chicken and vegetarian.

The Herbivorous Butcher at Andy's Garage

When The Herbivorous Butcher "all vegan everything" vegan butcher shop first announced its opening, they made national news with the oxymoron striking people's funny bones. But siblings Aubry and Kale Walch are having the final laugh with their wildly popular storefront (and new vegan fried chicken restaurant Herbie Butcher's).
Though they eat a vegan diet, the two had a hankering for their native Chamorro cooking, a cuisine rich in meat preparations. As a result, they're deeply attuned to what vegetarians and vegans crave when they crave the meats, and they set about making dreams come true with constantly innovative products from Korean-style ribs to Capicola.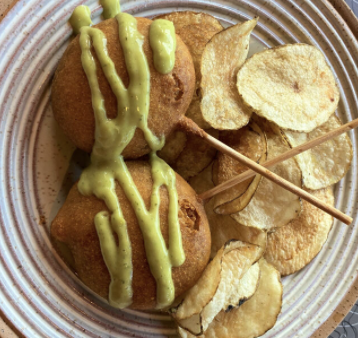 Photo Credit: Minnesota State Fair
While HB doesn't have their own State Fair booth (yet) you can taste their creations this year at Andy's Garage, where HB Chorizo will be battered and fried as only the State Fair can do it. Then, your "Choripop" will be served alongside either mole or avocado salsa.

The Minnesota State Fair runs from August 26 to Labor Day, September 6, 2021. Plan the rest of your 2021 Minnesota State Fair trip with our Guide to the Minnesota State Fair. And don't forget to share your pics with us on Instagram, Facebook and Twitter with #MYSAINTPAUL.