We're excited to get loud at the Grandstand, get dizzy from the Midway rides and get sugar rushes from fried candy bars with the rest of the state, but some aspects of the fair are uniquely Saint Paul. When you're scoping out the fairgrounds this year, be sure to hit these Saint Paul stands.
Food
Blue Barn
Whether you frequent the Groveland Tap for a late-night beer or new addition Bottle Rocket for a hearty brunch, the Blue Plate Restaurants are a great part of the Saint Paul dining scene. The company opened the Blue Barn in 2014, a location that's only open during the fair and adds Blue Plate's signature twist to popular fair foods. New this year are Triple Truffle Trotters and Will Bill's Breakfast Bake. Location: West End Market, east side, south of the History & Heritage Center, H-24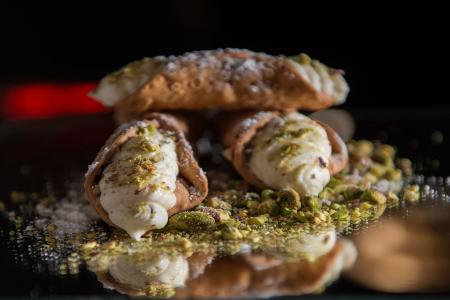 O'Gara's at the Fair
O'Gara's has three locations: Selby Avenue, the Minneapolis-Saint Paul Airport and the Minnesota State Fair. As if it couldn't get any more Minnesotan, the restaurant serves up local beers, Reuben bites and traditional cheese curds with a cayenne twist during the fair. Location: Southwest corner of Dan Patch & Cosgrove, V-24
Mancini's al Fresco
Mancini's Char House on West 7th is an icon in Saint Paul and the restaurant's State Fair location, Mancini's al Fresco, lives up to the reputation. Early morning fair-goers will want to take advantage of the fresh Italian breakfast options that Mancini's offers. You also won't want to pass up on cannolis (pictured) or their new 2017 creations like the Italian Bomba Sandwich (an Italian take on the Cubano) and freshly made beer gelato. Location: Carnes between Nelson and Underwood, P-26
Ball Park Café
How could we write about Saint Paul at the fair and not include our crazy craft beer scene? Summit, Surly, Urban Growler, Tin Whiskers and more are all represented at one of the fair's best beer stops, the Ball Park Café. Location: East side of Underwood St. between Dan Patch & Carnes, R-25
Sweet Martha's Cookies
These famed baked treats are on any Minnesotan's State Fair bucket list, but Sweet Martha herself hails from Saint Paul. Go ahead, get yourself a cup—or a bucket. With a third location added for 2017, you'll have plenty of chances. Locations: North side of West Dan Patch, between Ligget & Chambers, K-24; South side of Carnes between Nelson & Underwood, P-27; West side of Underwood between Lee & Randall, R-13
Entertainment
History On-A-Schtick
Brought to you by the Saint Paul-based Minnesota Historical Society, History On-A-Schtick packs all of Minnesota's history into a fun-filled 30-minute performance. Shows run daily at 9:30 a.m. and 10:30 a.m. in the West End Market's Schilling Amphitheater. Location: Schilling Amphitheater, West End Market, G23
Shops and Attractions
International Bazaar
Some of Saint Paul's best stores bring the best of other cultures to the city, and you'll also find them in the International Bazaar. El Burrito Mercado, Irish on Grand and many others are represented throughout the market. Location: T-31
Fan Central
All of your favorite capital city sports teams in one place. Gear up at FAN Central with the Minnesota Wild, Minnesota RollerGirls, St. Paul Saints, and United FC (plus all of those other Minneapolis-based teams, too). Location: FAN Central, Q-25
State Fair 2017 Commemorative Art
This year's State Fair Commemorative Art was created by Saint Paul's own Ta-coumba Aiken. To prepare for creating this year's artwork, Aiken visited the fair twelve times last year to take in the energy and spirit of the Fairgrounds. See it for yourself in the Fine Arts Center. Location: Fine Arts Center, V-16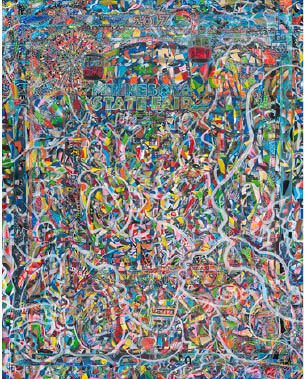 Metro Transit
We love to use Metro Transit—especially when it takes us to the fair. Through the Park and Ride system, you can get to and from the fair on a five dollar express shuttle, and we're completely on board with that.
Of course, don't forget to check out the Visit Saint Paul booth. We'd love to talk all things #MYSAINTPAUL with you. Location: Grandstand lower level, southeast corner, M-24
Share your #MYSAINTPAUL State Fair experience with us on Facebook, Instagram and Twitter (using the hashtag #MYSAINTPAUL, of course).